"
Jeltharo says, "White River was founded ages ago, before recorded time. It was built at the narrowest point along the White River itself, to make passage to the Northern Marches easier. Naturally, a town grew up here. Most of the citizens are either minor wizards or merchants, dealing in trade with other cities in Meridell."
"

—Conversation with Jeltharo, White River
The town of White River is the second town in Meridell. White River is split up into two portions, one on each half of the titular river itself. While the town is being terrorized by Zombom the southern half of the city, which contains Mipsy and the second potion seller, Sildairm, is inaccessible.
Inhabitants
Edit
Jeltharo is the first citizen of White River that is met, at the entrance to the city. He explains that the wizard Zombom raised the bridge that connects the two halves of the city over the river.[1] Mipsy, the second party member, is met in the second half of White River.
"
Horxas says, "White River's a peaceful town. The bit with the wizard showing up was more excitement than we've seen in all my lifetime! Normally, we just have a few wizards who quietly practice their magics, and the tradesmen who pass through frequently. They ship all manner of goods through here, although business has dried up a bit, now that the bridge is unusable."
"

—Conversation with Horxas, White River
The inn of White River is run by Horxas who charges 35 gold pieces for Rohane to rest for the night. After defeating Zombom, however, he will discount his price to only 25 gold pieces.[2]
First shop
Edit
The first shop accessible to Rohane as soon as he enters the city is run by Tebor. Tebor is the first merchant that sells a weapon and armor in addition to basic potions.
Sold by

Tebor

Name
Cost (Normal)
Cost (Evil)
Cost (InSaNe!)
Effect

Healing Vial

15 gold pieces
18 gold pieces
22 gold pieces
Heal 15

Flare Potion

15 gold pieces
18 gold pieces
22 gold pieces
Damage 15

Blast Potion

25 gold pieces
30 gold pieces
37 gold pieces
Damage 25
400 gold pieces
480 gold pieces
600 gold pieces
Damage 8
300 gold pieces
360 gold pieces
450 gold pieces
Defense 5
View this template
Second shop
Edit
The second shop is only available to Rohane, and subsequently Mipsy, after Zombom is defeated. The shop is run by Sildairm and, like Tebor, sells both potions as well as weapons and armor. Sildairm is the first potion seller to offer Haste, Slow, and Resurrect potions.[3]
Sold by

Sildairm

Name
Cost (Normal)
Cost (Evil)
Cost (InSaNe!)
Effect

Healing Vial

15 gold pieces
18 gold pieces
22 gold pieces
Heal 15

Healing Flask

25 gold pieces
30 gold pieces
37 gold pieces
Heal 25

Flare Potion

15 gold pieces
18 gold pieces
22 gold pieces
Damage 15

Blast Potion

25 gold pieces
30 gold pieces
37 gold pieces
Damage 25

Awakening Potion

200 gold pieces
240 gold pieces
300 gold pieces
Resurrect with 10% health

Speed Potion

50 gold pieces
60 gold pieces
75 gold pieces
Haste 15%

Slowness Potion

50 gold pieces
60 gold pieces
75 gold pieces
Slow 20%
400 gold pieces
480 gold pieces
600 gold pieces
Damage 8
500 gold pieces
600 gold pieces
750 gold pieces
Defense 8
View this template
Town of White River
(click here or below for full resolution, here for file page)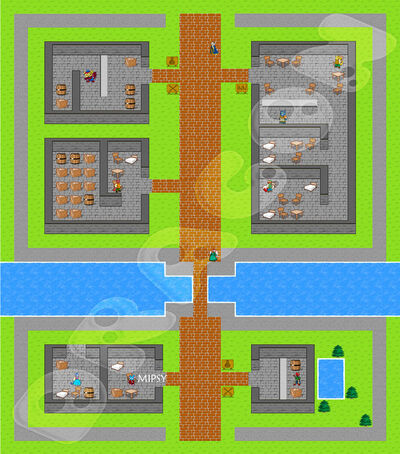 References
Edit