"
You say, "What else is near the village?"

Pongoras says, "Well, there's the mountains to the north, and the coastline all around... if you head northeast and then south, you'll get to the city of White River. You can't trust city folk, though. Be careful if you go there."

"

—Conversation with Pongoras, Trestin
The village of Trestin is the starting town in the first chapter, Meridell. It is Rohane's home, as well as his Mother's.
Storyline
Edit
"
Tolain says, "I don't understand why all the animals that live in the nearby lands have become so aggressive lately. Why, I used to be able to walk all the way to White River, at night, without having to worry about a thing. Now, I can't even go out during the day without being set upon by ravenous beasts!"
"

—Conversation with Tolain, Trestin
Trestin is suffering under the unfortunate effects of Ramtor's curse that turned the peaceful animals of the lands into monsters and set them upon Meridell. This is helped less by the fact that the dark cave to the north of Trestin has been filled with vicious creatures.[1] Jimba's flock of babaas has been restless because of attacks from lupes that also howl in the night, and Tolain has been unable to make the trip to White River because of the danger.[2][3]
Inhabitants
Edit
Trestin has five residents, not including Rohane. Mother provides what is the game's first "inn" for no price, and Pongoras sells potions.
"
You say, "I need rest. May I spend the night at home?"

Mother says, "Why, of course, dear! How could I possibly turn you away from the house you grew up in?"

"

—Conversation with Mother, Trestin
Mother acts as the first resting place for Rohane to heal his health. As the rest is free, a common strategy is to level up several times before leaving home.
"
Pongoras says, "Well, I once learned to make a couple of simple magic potions from a wandering wizard. If you want, I can sell you a basic healing vial or a dangerous Flare potion. Careful with the Flare potions -- they're quite explosive! I'll just charge you what it costs me to make the potions; anything more wouldn't be fair, since I've known you your whole life."
"

—Conversation with Pongoras, Trestin
Pongoras sells the potions in Trestin. He sells only two, the game's first healing potion, the Healing Vial, and the first damage potion, the Flare Potion.
Sold by

Pongoras

Name
Cost (Normal)
Cost (Evil)
Cost (InSaNe!)
Effect

Healing Vial

10 gold pieces
12 gold pieces
15 gold pieces
Heal 15

Flare Potion

10 gold pieces
12 gold pieces
15 gold pieces
Damage 15
View this template
Trestin Village
(click here or below for full resolution, here for file page)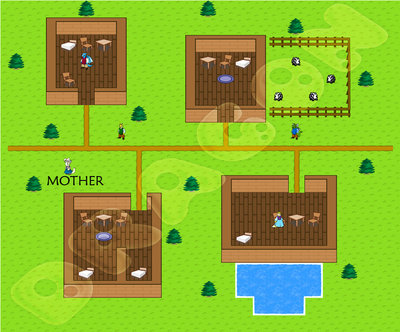 References
Edit