"
You say, "What can you tell me about this town?"

Berig says, "Yar, well, this be the tranquil seaside hamlet of Seaside. Our main imports be grain and iron; our main exports be fish and wood. We be the third most populous town in Meridell, although we be havin' the lowest average family size. Would ye like to know more?"

"

—Conversation with Berig, Seaside
The village of Seaside is the fourth town in Meridell. After Rohane and Mipsy defeat the giant sand grundo in the lost city of Phorofor, a teleportation orb becomes available that transports the party to the southern Meridell continent which includes Seaside as well as Meridell Castle.
Storyline
Edit
"
Uthare says, "Avast, this be a lovely place ta live, if I do say so myself. Plenty o' fresh sea air, more sticks than you kin shake a fish at, and neighbors who'll leave ye ta yer business, if ye be catchin' me drift. Although, lately, there be many strange folk passin' through the area. Probably something ta do with the troubles down 'round the castle way. Arrr."
"

—Conversation with Uthare, Seaside
While White River and eventually Meridell Castle are both struck with magical afflictions affecting its citizens, the towns of Trestin, Lakeside, and Seaside are mostly unaffected. Uthare mentions that "strange folk" have been seen passing through the area, and Uthyni mentions in terror that he heard (likely untrue) rumors of Ramtor's intent to ban the sale of fish.[1][2]
Inhabitants
Edit
Seaside, compared to its sister town of Lakeside, is relatively small in both geographic size as well as population. As Berig mentions, Seaside boasts the third largest populace in Meridell however they have the lowest average family size.[3]
Potions in Seaside are sold by Uthare.
Sold by

Uthare

Name
Cost (Normal)
Cost (Evil)
Cost (InSaNe!)
Effect

Healing Bottle

45 gold pieces
54 gold pieces
67 gold pieces
Heal 50

Healing Potion

35 gold pieces
45 gold pieces
52 gold pieces
Heal 35

Awakening Potion

200 gold pieces
240 gold pieces
300 gold pieces
Resurrect with 10% health

Burst Potion

40 gold pieces
48 gold pieces
60 gold pieces
Damage 50

Flame Potion

30 gold pieces
36 gold pieces
45 gold pieces
Damage 35

Acceleration Potion

90 gold pieces
108 gold pieces
135 gold pieces
Haste 25%

Velocity Potion

70 gold pieces
84 gold pieces
105 gold pieces
Haste 20%

Deceleration Potion

90 gold pieces
108 gold pieces
135 gold pieces
Slow 15%

Dawdling Potion

80 gold pieces
96 gold pieces
120 gold pieces
Slow 25%
View this template
Weapons and armor
Edit
Patannis sells both the weapons and armor in Seaside.
Sold by

Patannis

Name
Cost (Normal)
Cost (Evil)
Cost (InSaNe!)
Effect
1,100 gold pieces
1,320 gold pieces
1,650 gold pieces
Damage 20
1,100 gold pieces
1,320 gold pieces
1,650 gold pieces
Damage 8

iron ringmail

Metal Armour (defense 20)

1,100 gold pieces
1,320 gold pieces
1,650 gold pieces
Defense 20
1,100 gold pieces
1,320 gold pieces
1,650 gold pieces
Defense 8
View this template
Village of Seaside
(click here or below for full resolution, here for file page)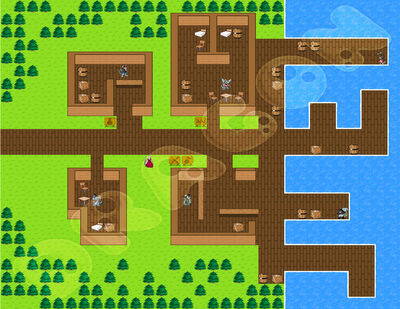 References
Edit