Welcome to the NeoQuest Wiki!
The NeoQuest Wiki is a collaborative encyclopedia for everything related to Neopets.com's online games, NeoQuest & NeoQuest II. There are 171 articles and growing since this wiki was founded in April 2010.
The wiki format allows anyone to create or edit any article, so we can all work together to create a comprehensive database for the NeoQuest series.
Featured article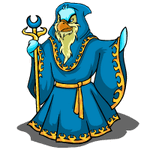 Ramtor is a boss from NeoQuest II. He is fought in Meridell, the first chapter, a total of two times. The first battle against him is waged inside of Meridell Castle, and, when he is whittled down to 100 health, where he will flee from. Rohane and Mipsy will then fight him again as the last chapter boss on the top floor of Ramtor's Tower, where he must be fully defeated to proceed to the second chapter, Terror Mountain.
Ramtor maliciously brings monsters to Meridell to keep the inhabitants busy with defending themselves while he takes over Meridell with nobody to stop him. He is the second wizard that Rohane and Mipsy fight, the first being
Zombom
. After he is defeated at Meridell Castle, it is revealed he had placed a spell upon all of the inhabitants of the castle, who "seem to be blinking with astonishment, as if they've woken from a long dream." (
more...
)
"
Ramtor grunts as he is struck, his eyes burning with hatred. "So, it seems you are more formidable opponents than I thought! Well, I think I shall take my leave now, for I must have time to prepare for our next encounter. Farewell, foolish enemy, but not for the last time: when we next meet, I shall destroy you!" Ramtor takes a step back, waves his hand, and there is a blinding flash of light accompanied by a thunderous sound. When your vision clears, Ramtor is gone. All around you, the other people in the castle seem to be blinking with astonishment, as if they've woken from a long dream.
"

—Ramtor, first defeat speech
To write a new article, just enter the article title in the box below.
Not sure where to start?
Adding content
Talk and more...
Check out the community portal to see what the community is working on, to give feedback or just to say hi.