"
You say, "What happened here?"

Count Sadath says, "Well, a few weeks ago, Ramtor somehow got the castle guards to take the king prisoner. I suppose he had already cast a spell upon the guards to make them do his bidding. Anyway, I don't know where they took the king. After the king was gone and Ramtor announced that he was now king, we all started to feel unnaturally frightened. Frightened, and... well... sleepy. I suppose it was another spell of Ramtor's, but it seems to have been dispelled by Ramtor's disappearance."

"

—Conversation with Count Sadath, Meridell Castle
Meridell Castle is the final town before finishing Meridell. It houses the boss Ramtor, along with the castle guards and its other inhabitants.
Storyline
Edit
"
Guard Thyet rubs his eyes. "Oh, I can't believe it! You've defeated Ramtor! Or at least, gotten him away from the castle. I guess his spell was broken when he fled. I hope you can truly defeat him, once and for all, though.
"

—Conversation with Guard Thyet, Meridell Castle
Ramtor, having put a spell on the guards of Meridell Castle to control them, used several of them to detain King Skarl in Ramtor's Tower.[1][2] He then put the guards and remaining inhabitants of the castle into a dreamlike state of which they could not break free.[3] After hearing about trouble in the castle from the residents of Seaside, Rohane and Mipsy defeat Ramtor in the castle, and he flees to Ramtor's Tower, awakening the inhabitants of the castle from his controlling spell.[4]
Inhabitants
Edit
Meridell Castle is comprised of three guards, their captain, and three nobles.
Guard Thyet provides Rohane and Mipsy with free rest in the castle's facilities as thanks for freeing the castle's denizens from Ramtor's control.
Meridell Castle
(click here or below for full resolution, here for file page)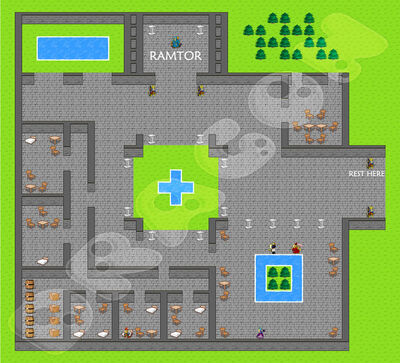 References
Edit